84 Mini Pitches for Brandenburg
Regional Football Association of Brandenburg orders 84 SoccerGround Classic mini pitches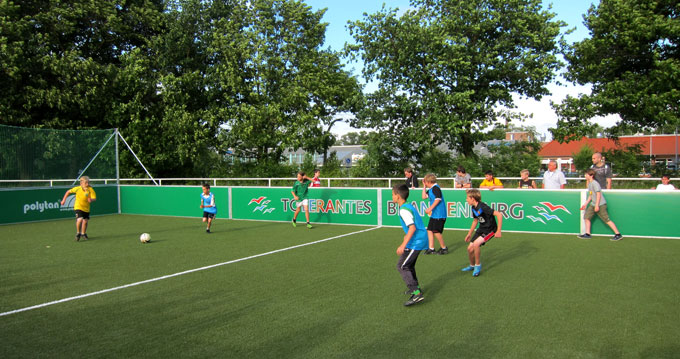 Recognizing the great success of the DFB / German Football Association's 1000 Mini Soccer Pitches for Germany project, the regional government of Brandenburg has authorized funding from the coffers of former parties and mass organizations in order to establish additional mini soccer pitches.

The regional football association, the FLB, will oversee the project, working together with Polytan and ourselves, USP, the same partners who worked with the DFB on the 1000 mini soccer pitches scheme.

Furthermore, excellent teamwork with the ministry responsible for education, youth and sport, along with additional partners, will play a large part in guaranteeing the success of the project in the interest of the footballing region.

Altogether, 84 SoccerGrounds were built in about one year.
Sports minister Holger Rupprecht had these forthright words to say at the inauguration of the 1st mini soccer pitch in Storkow: "It is always a pleasure to spend money on things that make sense". Money which, as well as being spent on the mini soccer pitches, is being invested in the refurbishment of playgrounds and upgrading of technical equipment in schools.

The goal is to secure ideal conditions for our younger generation and develop new footballers of both sexes through cooperative liason between schools and clubs.

Young, talented players were most keenly interested in getting on the pitch on its inaugural day, and, as soon as the ceremonial part of the event was concluded, they did just that.