Indoor Arena Tournament
SoccerGround Advanced 20x40m at the Nuerburgring Arena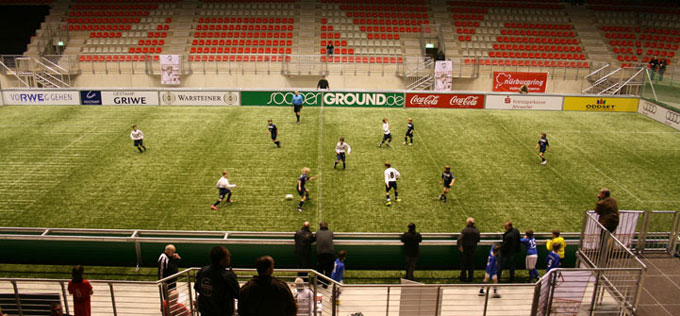 Between the 7th and 16th January 2011, the Rhineland Football Association invited soccer players to enter the great ring°arena at the Nürburgring. A marvellous mix of teams ranging from pre-school kids, through youth teams and all the way to regional league women's clubs and works teams took part. The star of the show, however, was the popular SoccerGround with its professional artificial pitch system.

This year's tournament on 15th January is sure to bring in the crowds again. Legendary teams such as 1. FC Kaiserslautern, Mainz 05, Borussia Dortmund, Eintracht Frankfurt, Eintracht Trier and TuS Koblenz have already signed up – with more to follow. The icing on the cake is provided by the official indoor Rhineland-Pfalz Championships for regional women's teams.
 Proceeds will be donated to the Fritz-Walter Foundation, supporting youth work in football and the integration of juveniles into society.

We are delighted to supply this event with our products.