New Soccer Arena for Bundesliga club
5-a-side football on a new small sided pitch outside the Borussia Mönchengladbach stadium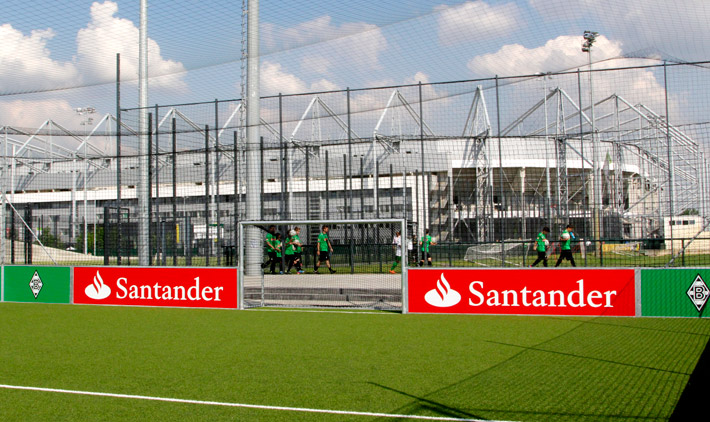 Borussia Mönchengladbach and the Under-21 squad have recently begun to enjoy the advantages of an additional training pitch, a SoccerGround Classic design, the original DFB mini soccer pitch.

USP installed the rebound board system in customized dimensions of 19 x 26 metres, specifically suited to the available space, featuring 4 x 2 metre goals with a special aluminium tubular profile. A removable section of the boards along the length of the pitch allows turfcare equipment to be brought easily onto the playing surface. The five-a-side football pitch is bordered by nets and covered with roof netting.

The boards at each end of the pitch bear eye-catching UV-resistant banners emblazoned with advertising for the Santander Bank sponsor and the Borussia diamond.

The pitch was inaugurated on 01.05.2013 on the occasion of the Under-21's DFB cup match in Mönchengladbach.

Almost three thousand fans saw the premiere on the Foals' new pitch alongside Borussia Park – a particularly fine backdrop. Many of the Gladbach first team squad were amongst the crowd, along with their coach, Lucien Favre, and his staff, the entire board of directors and Max Eberl, Borussia's director of sport. "It is a great shame, of course, that we lost", Under-19 captain Maurice Pluntke admits. "But it was a great experience to play in front of so many supporters."

USP offers a variety of SoccerGround designs like the Classic, Advanced and Ultramobil in a wide range of sizes, e.g. the popular 13 x 20 metre or 15 x 30 metre dimensions with goals measuring 3 x 2 or 4 x 2 metres.

Individual wishes can be fulfilled at any time. Colour or print options for the boards, adjusting the height of the nets or adding basketball or volleyball nets, for example. Moreover, all USP structures have been verified in terms of static analysis and provide maximum comfort and safety with minimal maintenance costs.