DFB 1000 Mini Pitches project
The largest Grass Roots initiative of the German Football Association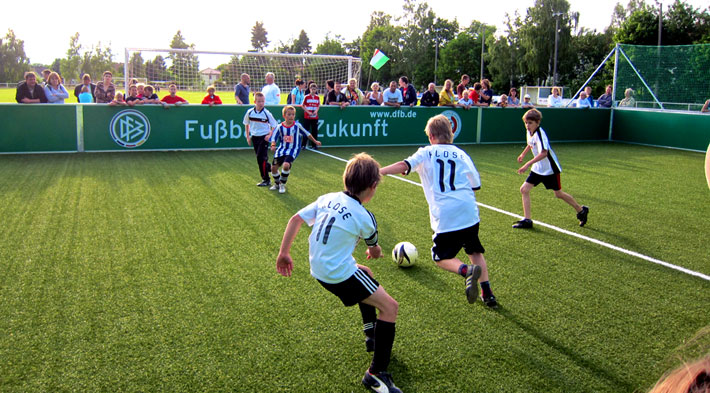 In the year 2008, the DFB (German Football Association) declared that the time had come to promote football as a school sport and popular activity through the improved integration of children and youths in the context of play.

For boys and girls, large or small, of German or immigrant background, indeed for everyone, the aim was – and still is today - to encourage them all to play together, to kick a ball together, to get to know each other better.

Over 5,000 schools and clubs applied for DFB funding which would cover the cost of the entire sporting arena, thus providing a magnificent opportunity to enhance school facilities in worthwhile and enduring fashion.

1,000 mini soccer pitches were originally planned, 1,006 were ultimately constructed, financed through income from the 2006 World Cup and UEFA affiliates with their Hattrick programme.

Spread equally across the 21 regional DFB federations, the excellent SoccerGround® coverage in Germany means that virtually every child will find a pitch not too far from home.

All courts feature superb artificial turf, coupled with a SoccerGround® perimeter board system, netting and integrated goals. And the project keeps on growing!

Following the lead of the DFB, the Brandenburg Regional Football Federation (Fussball-Landesverband Brandenburg) installed another 84 pitches, Mecklenburg-Vorpommern 15.

In fact, counting further bodies and initiatives, some 300 additional SoccerGround® arenas have contributed to the common goal of accessible sport for all.
More information on DFB Mini-Pitches: www.mini-pitch.com