SoccerGround Advanced
The new, completely free-standing football mini pitch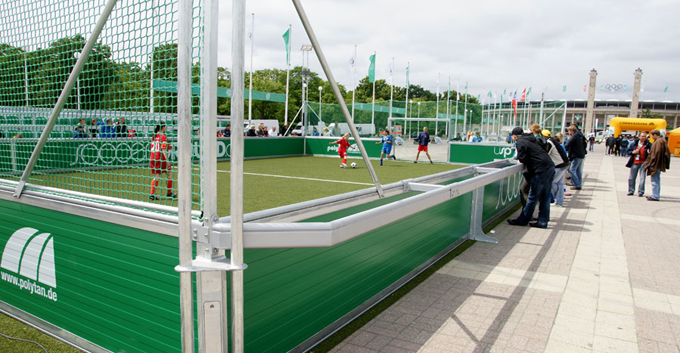 Based on the SoccerGround Classic, DFB tried and tested, rebound board soccer mini pitch, we have developed a new system, the SoccerGround Advanced.

It fulfils all of the SoccerGround Classic criteria, i.e. is manufactured to the same high standards, enjoys the same stability and is suitable for long-term use, yet is even more flexible.

SoccerGrund Advanced also consists of boards (each 5m in length), goals and netting at both ends of the pitch (netting on the touchlines optional, if customers so wish).

For this particualar board system, based on the commonly deployed dimensions of 13 x 20m, NO foundations are necessary! This means that the boards are not secured in the ground by means of concrete foundations, instead a practical handrail running the length of the touchlines ensures stability.

This premium soccer mini pitch board system can thus be set up in the short term as well as over a longer period of time, indoors (e.g. sports halls) as well as outdoors.

SoccerGround Advanced standard dimensions: 20 x 13m.
Any size pitch is possible, of course (e.g. 10 x 15m, 20 x 40m etc.); for soccer fields larger than the standard specifications, some permanent foundations may be required.

The SoccerGround Advanced also carries the TÜV/GS safety certificate as a complete system, conforming to the requirements of the DIN standard EN 15312 for free access multi-sports equipment and is exclusively manufactured in our own steel construction plant in Germany.

To protect our children, the highest levels of safety are of the utmost importance to us, and we reduce the risk of injury to a minimum through insisting on top level manufacturing standards and materials, such as special netting.
Want to find out more about the advantages of SoccerGround Advanced?

Take a look at our product brochure here for further details or contact us for a free quotation.
More information on our Mini-Pitches are available on www.mini-pitch.com.
Use our Mini-Pitch configurator to design your own Soccer Court!