SoccerNet
Safe side netting along the touchlines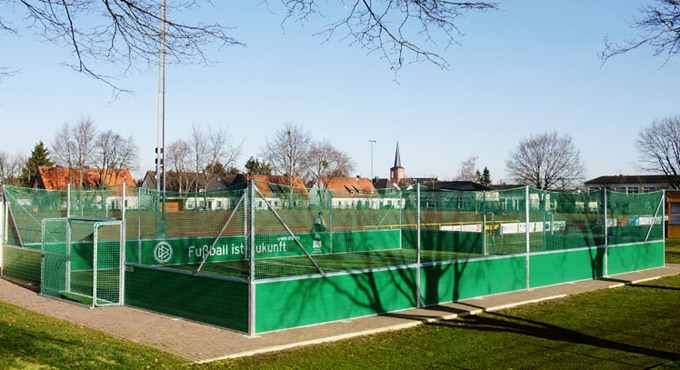 The SoccerNet side netting comprises 2 (in the case of one sideline, just one) sets of netting affixed to three posts, preventing the ball from leaving the field of play.

The standard height of the side netting is 2m, shielding the ball to a height of 3m (incl. 1m high board).
If the customer wishes, we can supply 4m high netting to road safety specifications, shielding the ball to a height of 5m.

This height negates the need for overhead cover, which invariably creates the impression of a cage. Should overhead cover nevertheles be required, we can, of course, supply this as well.

All SoccerNet products are manufactured with materials which minmize the risk of injury, i.e. 50 x 50mm mesh size safety netting, 4mm thick (cannot be climbed and will not lacerate fingers). We also use a complete galvanization process for long-term durability.

Our products are, as a matter of course, manufactured in Germany to TUV standards.
Please feel free to contact us for more information or a free quotation.