Soccer Cage
1v1 action in a soccer cage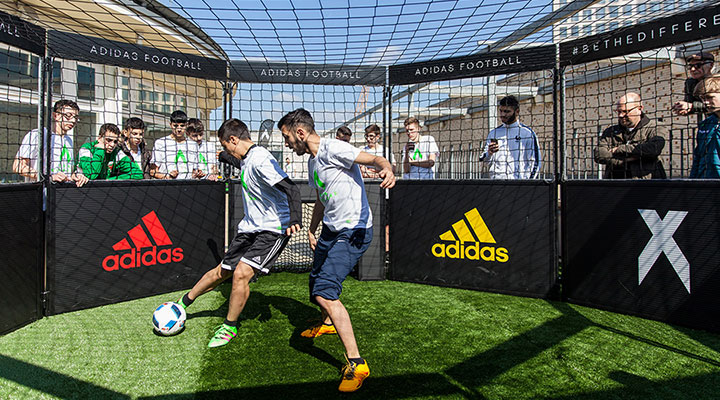 The SoccerGround Cage is an octagonal soccer court.

The rules are simple: one against one, fair but tough. The first to score 5 goals or to nutmeg his opponent and retain possession and control is the winner. This version of football is also known as Panna K.O.

The SOCCERGROUND CAGE is the ultimate sports facility for events in public spaces, pedestrian zones, open air swimming pool complexes or indoor halls (e.g. soccer, beach, children's playgrounds and the like).

The SOCCERGROUND CAGE is ideal for all soccer or sports clubs and equally suited to schools, kindergartens or playgroups, leisure parks, campsites, hotel complexes and many more locations.

The SOCCERGROUND CAGE is also an ideal promotional tool for sports event agencies, companies, hotels, trade fairs etc. Such events become more exciting, dynamic and successful. The SOCCERGROUND CAGE can be set up on virtually any surface, indoors or outdoors. The game can be played on natural grass, artificial turf, asphalt, concrete, cobblestones, carpet, wood, sand, cinder pitches or almost any other type of ground.

TECHNICAL SPECIFICATIONS

The SOCCERGROUND CAGE comprises 8 mobile, weatherproof, hot-dip galvanized steel elements, which can be swiftly and easily assembled.

The cage is approx. 2.5 m tall and measures 5 m in diameter.

Further sizes available on request.

The lower section features approx. 1 m high board elements made of sheet metal coated, polyurethane sandwich panels. These are both impact and shock resistant (sound insulated model ) and offer an ideal opportunity for promotional advertising.

The upper border of the cage features a circular advertising space (1.56 x 0.20 m), which is ideally suited to logo branding placement.

Inside the cage, the player is totally focussed on the soccer game itself. This sense of purpose is enhanced by the side nets, which keep the ball permanently in play. Nets: available in black, green or indeed any other colour. Mesh size 50mm, 4mm thick. Wire mesh panels available as an alternative to nets (on request).

Small goals are set into two of the panels facing opposite each other. They measure 1 x 0.5 m and are securely fixed to the goal element (folding design). A door is integrated into another of the board elements, featuring a spring-loaded hinge which enables easy access to the cage.

OPTIONAL: ARTIFICIAL SPORTS TURF
We can deliver the perfect artificial sports turf for you as an additional option. A professional playing surface of artificial turf can vastly improve the quality of games, optimizing the run of the ball and offering players greater stability on their feet, thus reducing risk of injury.

INDIVIDUAL BRANDING OPTION The SOCCERGROUND CAGE can be readily supplied with individually designed branding (advertising prints on the boards), tailored to the customer's wishes. We can provide layouts on request. We use either high-gloss laminates or highly durable, UV-resistant digital prints on the advertising boards.

SIMPLE TRANSPORT AND ASSEMBLY

Thanks to its simple interlocking system, the 8 separate cage elements of the SOCCERGROUND CAGE are easily assembled and take up little space in transit or storage. They can be loaded onto virtually any small transporter (e.g. a Sprinter) or small trailer.

Total weight of assembled construction: approx. 650 kg

Individual weight max. 65 kg/per item for each of the 8 wall sections + separate goals and door.
The 8 main segments are max. 2 m wide and 3 high.

Basically, there are just 11 elements to be assembled on site: 8 perimeter wall sections, 2 goals, 1 door.
What this means: ultra-fast assembly of the cage with maximum stability!
We would be happy to supply you with an offer or quotation.

Please feel free to contact us for more information or a free quotation or visit our SoccerGround Panna Cage Website http://www.soccercage.com for more information and pictures.
You can also use our Panna Soccer Cage configurator, to choose from many colors and options to design your personal Soccer Cage.